Record and export video from screen capture
Record Animation
Before SU Animate v4.2.2, it was necessary to convert your animation to SketchUp scenes using the "make scenes" command in order to export your animation. Make scenes creates a frame for each frame in your animation, which can then be played/exported to .mp4 using SketchUp's Animation Play command.
This works quite well, and SketchUp's animation controls are robust enough to get very smooth, nice looking animation directly out of SketchUp. However, using "make scenes" to export your animation can be somewhat unstable for longer, more complex animations that require SketchUp to handle hundreds of scenes.
New Record Function - Export video without converting animation to scenes
SU Animate v4.2.2 includes a new Record function that lets you export .mp4 or .flv files directly from SU Animate without converting an animation to SketchUp scenes.

Record can be launched from either the main SU Animate dialog, or from the SU Animate player as pictured above.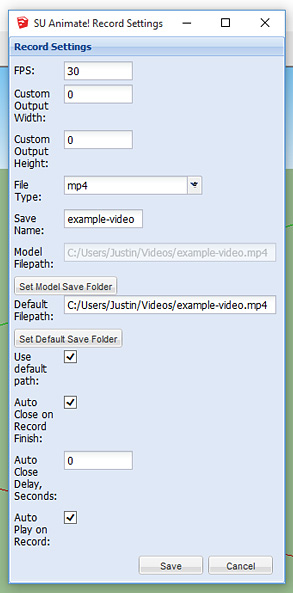 Additional options can be accessed by selecting "Settings" from the Record dropdown:
FPS (Frames Per Second): By default, SU Animate will record videos at 30 frames per second. The FPS setting, in conjunction with the number of frames in your animation will determine the length, speed, and smoothness of your final exported video. Experiment with different FPS values until you are happy with the playback rate.

Custom Width & Height: SU Animate defaults to the resolution of your viewport if these boxes are left blank. You can input a custom resolution and aspect ratio here.

File Type: Set the export format here. SU Animate can export to either .mp4 or .flv.

Save Name: Input a custom save name here; othewise, SU Animate will use the name of your model.

Model & Default filepath: These two inputs let you specify where your video will be saved. When the "Use default path" option is checked, SU Animate will save your video into whatever directory you have chosen as the default save folder. If that option is un-checked, SU Animate will export the video to whatever folder you've specified in the "model save folder" box.

Auto Close on Finish: When this is checked, the record window will close when the animation is finished running. Otherwise, the window will remain open. You can uncheck this if you want to record multiple cycles of a looping animation.

Auto Close Delay: Set a delay (in seconds) before the record window closes after it has finished recording the animation.

Auto Play on Record: Leave this checked if you want the animation to start playing as soon as you click "record".